Outlook 2011 For Mac - Auto Archiving Mail
This article explains how to create a rule to automatically archive email in Outlook 2011 for Mac.
Archiving in Outlook 2011 for Mac is achieved using rules to automatically copy over messages older than a set number of days into a local folder. These steps demonstrate how to automatically move mail out of your Exchange mailbox, and place it on your local computer's hard drive. Please keep in mind archived messages will not be viewable through Outlook Web App (OWA) because they are no longer stored on the Exchange server. Once this mail is moved out of the Exchange mailbox system, you will be the only one who has a copy.
Viewing Local Folders
Ensure you can see the On My Computer folder in Outlook 2011.
In Outlook 2011, click on the Outlook menu at the top of your screen, choose Preferences, thenGeneral.
Uncheck the box that says Hide On My Computer folders.

Close the General Preferences window.
Creating Local Folder to hold Archived Mail
Right-click (or ctrl-click) the On My Computer heading (probably at the bottom of your folder list) and choose New Folder.

Give your folder a name such as Archived Mail.
Creating Archiving Rule
Go to Tools > Rules.

With Exchange selected from the On My Computer section, click the + near the bottom of the window to create a new rule.

Name the rule from "untitled" to something meaningful like "180 Day, Auto Archive."

In the section called When a new message arrives: define the criterion as "Date Received" + "is Greater than or equal to" + "180" ... days old to apply to messages older than 180 days (for a 6-month archive rule).
In the section called Do the Following: define the action as "Move message" + "Archived Mail (On My Computer)"
Note: If you do not see the folder you wish to archive to, you will need to click on the drop-down arrow next to "Move Message" and select Choose Folder... then search for the archive folder. Under the folder name, the location "On My Computer" should be displayed.
Click the checkbox for Enabled.
Click OK.

Close the Rules window.
Running the Archiving Rule
To apply it to all mail in your inbox that is already six months or older, highlight the proper inbox, then select Message > Rules > 180 Day, Auto Archive. The first time this rule is run, it can take several minutes.


Note: If you have arranged your inbox folder into sub-folders, you will need to run this rule on each folder individually.
Viewing the Archives
To access your archived mail, click on the folder you designated under the On My Computer section
Cleaning Up your Mailbox - Outlook 2011 for Mac
Last Updated: April 4, 2014 9:08:37 AM PDT
Learn how to clean up your Outlook 2011 mailbox for better performance and to ensure you do not exceed your allocated server space.
This documentation will assist you in setting up a rule to move messages over 6 months old from your mailbox hosted on the Exchange server to a mailbox on your local computer.  Please keep in mind archived messages will not be viewable through Outlook Web Access because they are no longer stored on the Exchange server.
In the main Outlook 2011 window, click on the Tools menu and select Rules.
Select Exchange on the left side, under On My Computer and then click the '+' to add a new rule
Change your settings to match the picture below or your own preferences.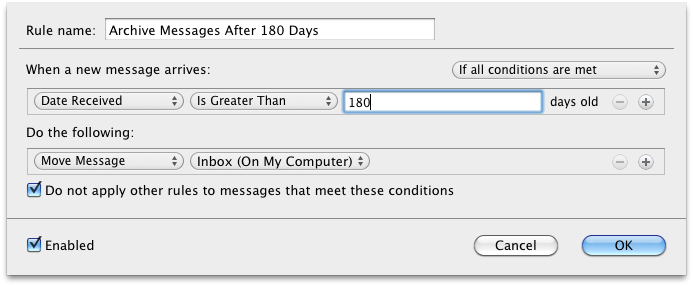 To manually run the rule now, go to the Message menu and click on Rules and then click on your rule.
There will be a folder underneath your Inbox called On My Computer where you will find your archived items.
To empty out your Deleted Items folder, either 

do a control + right mouse click

 or right click on the Deleted Items folder and click on Empty Folder.
To set Outlook 2011 to empty your Deleted Items folder on exit:

Go to the Tools menu and click on Run Schedule and then click Edit Schedules.
Double-click on Empty Deleted Items Folder
Under the When section, change Manually to On Quit
For further assistance, please visit the ITS4U Help Desk located in NYS 215 or call 203-254-4069 during business hours.